Shopping Cart
Your Cart is Empty
There was an error with PayPal
Click here to try again
Thank you for your business!
You should be receiving an order confirmation from Paypal shortly.
Exit Shopping Cart
| | |
| --- | --- |
| Posted on April 27, 2016 at 4:40 PM | |
Soft branding is a popular trend these days, showing no signs of slowing down at all in the face of billion-dollar mergers and acquisitions.
Unquestionably, soft brands fill a specific demand within the traveler mindset – those who desire an independent property to add an extra layer of exclusivity to their trips while also expecting certain standards to be upheld. It's a fascinating space and one that has yet to reach full maturity or capacity.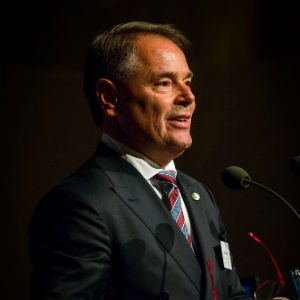 Tapping in for a phone interview to elucidate how properties can succeed within a soft branded space is Filip Boyen, the newly crowned CEO of Small Luxury Hotels of the World (SLH) and formerly the COO of Belmond who helped shepherd that organization through the Orient-Express rebrand. With its 520 properties spread across 80 countries, I've heretofore considered SLH to be somewhat of the 'fourth flower' in this arena alongside Preferred & Resorts, Relais & Chateaux and Leading Hotels of the World. SLH doesn't quite have the same degree of brand awareness of the other three, but don't let Boyen's ebullient Belgian accent deceive you; the company has a strong vision to boost this awareness on its way to becoming numero uno in soft brand associations.

 

To start, SLH is unveiling a new logo this quarter to generate excitement for activities coming to fruition later on in the calendar year, including a holistic update to its loyalty program called 'The Club' with its 400,000+ members. Currently underrepresented in the Americas, the association's primary goal is to thoroughly penetrate the US market and emerging South American destinations as well as gateway cities in Asia.

 

But what is SLH doing to improve the state of affairs in the hospitality industry and to elevate the bar for others to follow? I nodded and grinned profusely when Boyen confidently stated that SLH isn't trying to be everything for everyone. The USP is to connect independently spirited hotels with independently minded customers, not necessarily to go head-to-head with a major chain or generate trial through discounted promotions. In this sense, SLH constituents' largest competitor is now Airbnb, and Boyen certainly had strong words on that matter.

 

Airbnb is here to stay, as everyone knows. But now that the alternative lodging provider offers foodservice options, they are encroaching ever closer on the luxury accommodations segment which prides itself on its robust amenities. Boyen sees it as an ongoing arms race, and the only road to success is to be better and make each property even more exceptional.

 

After all, to the uninitiated, the SLH name means very little; it's only after guests have experienced a property's unique sensibility and the association's 720 heavily enforced brand standards that they might choose to stay within SLH instead of Airbnb or booking through an OTA. Boyen placed special emphasis on the enforcement of these standards because reputations are so fragile these days that the only path to long-term success is through a consistent delivery of quality service, even at the independent and semi-independent levels.

 

As an interesting aside, two-thirds of SLH's bookings still come through traditional travel agents. From this statistic alone, any hotelier can infer that there is a sizeable buffer between the target demographic of associations and that of Airbnb, and even the OTAs for that matter. As part of the strategy to widen this gap and become a niche leader, Boyen aims to drive greater levels of suite business (very high ADR guestrooms) and to work hard at the property level to become a facilitator for each destination – that is, developing programs to serve the local authentic guest experience and heighten guest education.

 

Even still, Boyen recognizes the need to gain traction amongst the millennials well before they are at a point in their lives where they are ready to adhere to one brand over another. It's a long-term effort that requires continual attention. The new loyalty program opening in September 2016 will help by increasing engagement with guests and fans. The real 'meat' for this objective will come by creating special and specific guest experiences that connect with community while also not succumbing to 'big brand creep'.

 

At a glance, these initiatives may not as appear to be anything revolutionary. it is their execution which will distinguish SLH over the coming months and years. "We steal with pride," remarked Boyen. He isn't ashamed in the least to source the best ideas already being successfully utilized within the hospitality space, and then adapt them to SLH properties. Even though the soft branding phenomenon may have overextended itself in the past few years, Boyen makes a very solid argument to support the notion that now is indeed the time for soft branding.

About the author

 

Larry MogelonskyLarry Mogelonsky is the founder of LMA Communications Inc. (www.lma.ca), an award-winning, full service communications agency focused on the hospitality industry (est. 1991).




Categories: None

0

/