Shopping Cart
Your Cart is Empty
There was an error with PayPal
Click here to try again
Thank you for your business!
You should be receiving an order confirmation from Paypal shortly.
Exit Shopping Cart
| | |
| --- | --- |
| Posted on November 29, 2015 at 10:35 PM | |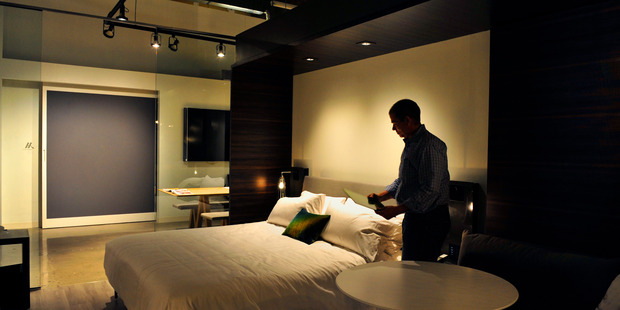 The bed is freshly made. There are drinking glasses next to the sink. Magazines are lined up on a shelf under the television.
But nobody will be staying here.
The purpose of this room, a 13.5sq m prototype in an unfinished office building in Alexandria, is to help hotel executives figure out exactly what they do - and don't - want to replicate at the Pod Hotel when it opens in Washington's Chinatown next year.
The list of gripes is already three pages long: The floors are too light. The desk chair too bulky. Just about every light fixture takes up too much space.
"We built a room and thought we were done," said Aaron Katz, president and chief executive of Washington-based Modus Hotels, which is building the 245-room property. "But now we are rethinking nearly every part of it. Where everybody else sees a handle on a door, we see potential for a pocket to catch."
Across the region, hotel companies have found ways to test their designs and technological advances long before any guest steps into a room. The idea, they say, is to test function, durability and other practical concerns before they spend hundreds of thousands of dollars buying furniture, flooring and fixtures. Groups of guests and housekeepers often walk through and provide feedback.
Marriott International is constantly updating mock rooms for 10 of its brands in the basement of its Bethesda headquarters. Hilton Worldwide, meanwhile, uses heavy-duty cardboard to create its earliest life-size models of rooms and corridors. The Hilton McLean (Va.) Tysons Corner Hotel also serves as a testing ground for experimental technology such as Tesla charging stations and a robot named Ava that greets guests as they walk in.
"Real estate is incredibly tight and very expensive,"said Jim Holthouser, executive vice president of global brands for Hilton.
Rather than going out and spending $100,000 to build something in one of our hotels, we build it off-site in a cardboard room. That is typically where we start.
Step off the elevators into the innovation lab in Marriott's basement, and you are greeted by a Willy Wonka quote: "Invention, my dear friends, is 93 percent perspiration, 6 percent electricity, 4 percent evaporation, and 2 percent butterscotch ripple."
Think of this sprawling space, which formerly housed the company's archives, as Marriott's version of the chocolate factory, says Karim Khalifa, senior vice president of architecture and construction. This is where new ideas are formed, built and ultimately tested before being implemented in more than 700,000 rooms worldwide.
For example, when the company was toying with the idea of introducing a dining space that could quickly change from a coffee bar to a cocktail lounge, Marriott employees built a prototype using foam blocks. They stocked the shelves with bottles, added bar equipment and asked a bartender to mix drinks.
"We wanted to see if the space would work," Khalifa said. "Could the bartender do what he needed to do? Was the guest okay with seeing coffee equipment in the morning and more of a lounge atmosphere at night?"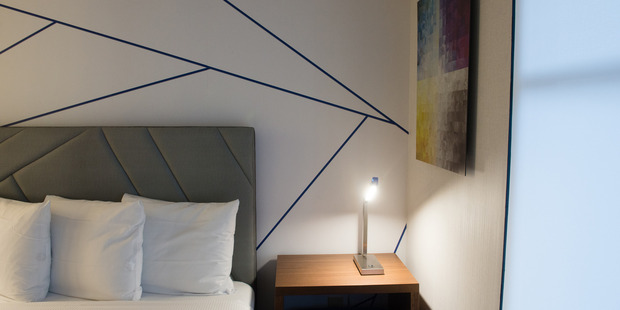 Asking questions is a big part of Khalifa's job. When a guest says he or she doesn't like carpeted hotel rooms, for example, he needs to know more.

 

"We constantly have to ask 'Why, why, why?' " he said. "It turns out, it's not that they hate carpet - they just hate not knowing if the floor is clean. So how do you know a floor is clean? You have to be able to see that it's not dirty."

 

As a result, much of the carpeting across Marriott hotels has been replaced by flooring that can easily be mopped and cleaned. Other times, the advice the company receives is more practical: When housekeepers pointed out, for example, that a set of shelves was too high to clean, Marriott provided them with Swiffers with extendable handles.

 

The models in the basement are also a window into the hotel room of the future. The Renaissance prototype, for example, has backlit light switches with built-in USB ports, bright-yellow acrylic nightstands and artwork on the ceiling above the bed. The Residence Inn room down the hall, meanwhile, has an extended towel rack that doubles as an art piece. Property owners and franchisees are encouraged to incorporate the pieces they like into their hotels.

 

"We want to tease peoples' minds and inspire them," Khalifa said. "In the past, guests wanted consistency. Today, they expect up-to-date design."

Hilton didn't think twice when it nixed the full-length mirrors.

 

When you articulate these things out loud, it sounds so obvious, like 'Why didn't you guys think of that?' But when you're designing a room and trying to be creative, sometimes you miss things."

 

But when guests walked through the prototype room for Canopy by Hilton, the company's newest brand, it was the first thing they noticed.

 

"Female travelers came in and said, 'No, no, no. I insist on a full-length mirror,' " Holthouser said.

 

Designers also ended up removing a wooden canopy adhered to the ceiling above the bed after customers pointed out that they weren't comfortable sleeping under something that looked so heavy.

 

"When you articulate these things out loud, it sounds so obvious, like 'Why didn't you guys think of that?' " Holthouser said. "But when you're designing a room and trying to be creative, sometimes you miss things."

 

Back in Alexandria, Katz walked through the Pod prototype, pointing out everything that company executives planned to change after a three-hour brainstorming session.

 

"The coloring feels a little Miami Beach," Katz said, gesturing toward the light wooden floors.

 

The list went on: The metal table lamps overheated quickly and took up precious space on the nightstand. The stripes on the hallway carpet didn't line up quite right. A strip of LED lights framing the door looked tacky.

 

It will take months to make the first round of changes. Once everything has been fixed, Katz's team will replace the room's queen-size mattress with a bunk bed. (About one-quarter of the new hotel's micro rooms will have bunk beds.)

 

"And then," he said, "we will pick it apart all over again."




Categories: None

0

/