Shopping Cart
Your Cart is Empty
There was an error with PayPal
Click here to try again
Thank you for your business!
You should be receiving an order confirmation from Paypal shortly.
Exit Shopping Cart
| | |
| --- | --- |
| Posted on October 14, 2015 at 8:00 AM | |
The internet has changed the way consumers make their purchases in that people can research their options online and read the opinions of their peers. These opinions, or reviews, are far more influential on a consumer's purchasing decision than any content created by the organization simply because the organization has little control over said content. And this applies to the hospitality industry just as much as any other sector.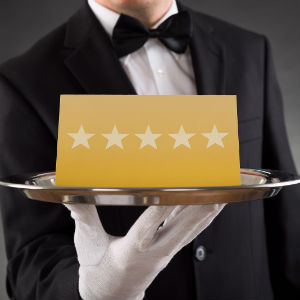 A study conducted by TrustYou and Donna Quadi-Felitti, Academic Chair and Clinical Associate Professor at NYU Preston Robert Tisch Center for Hospitality and Tourism, found that travelers are 3.9 times more likely to choose a hotel that has a higher review score than another if prices are the same. Furthermore, when prices rise, travelers are still likely to choose the hotel with the better review score, even if it is somewhat more expensive. When surveyed explicitly, 76% of travelers stated they would pay more to stay in a hotel that had a higher review score.

 

Clearly, positive reviews can and do have an impact on a hotel's bottom line. And the more positive reviews a hotel has, the more business it will generate.

Focus on the experience to turn guests into advocates for your hotel


The key to maximizing positive reviews is to create a delightful guest experience at every touch point – i.e. for every interaction the guest has with your hotel. This means every department in your hotel has to work towards achieving this goal, from the hotel front desk to the housekeeping staff. The ultimate objective is to create guest advocates or evangelists. These guests are the ones who are so satisfied with your services that they become increasingly loyal. Not only will this increase the guest's lifetime value and your overall retention rates, it will also play a role in generating positive reviews as these guests recommend your hotel to their friends, family and acquaintances.

 

Encouraging your team to go the extra mile and delight the guest is essential because delighted guests are much more likely to become advocates compared to merely satisfied guests.

Create a hotel culture focused on achieving guest delight

Creating a hotel culture focused on delighting guests is not only essential to generating more reviews and more business, but it also makes your hotel a more enjoyable place to work for your staff. A hotel with a guest-centric culture empowers employees to make decisions for the benefit of the guest. There is no rule book. There are guidelines and employees are encouraged to consider what the guest wants, as long as it isn't immoral or illegal and doesn't cost money. A guest-oriented hotel puts people first because the importance of their employees is paramount to achieving a delightful guest experience, so the staff is constantly engaged and more than enthusiastic when it comes to taking care of the guests.

 

By implementing such a culture in your hotel, you can be certain that all your employees are focused on achieving the same thing: a superlative guest experience that will translate into a higher number of advocates and into many more reviews.

Step 1: Define the guest experience

 

To build a guest-centric culture, you must define the guest. Every aspect must be clear, from how you want your guests to feel when they interact with the staff at the front desk to how you want them to react when they first see their room. Take your staff through examples of specific positive reviews on TripAdvisor or other review sites so that they know how these seemingly small initiatives can have a direct impact on generating a positive review.

Step 2: Ensure the message is understood

 

Every employee must know and understand your mission, which is the next step. Don't limit them just to the areas that concern them. Make sure everyone in your hotel, whether or not you think they are directly related to the guest experience, is clear about your vision. Let them know that no role is too small to make a difference. For example: Even though your F&B staff is not facing the guest they should be aware that your hotel's focus is on not just satisfying the guests, but delighting them, and that food can contribute strongly. They will make sure that all efforts are made to dish out a highly presentable meal that delights not just the taste buds, but all the senses.

Step 3: Provide training

 

The next step is to train your employees so they are able to deliver, otherwise your manifesto will remain nothing more than words. If required, take the assistance of Guest Experience Consultants who can do a professional job of training your staff as per your hotel's goals.

Step 4: Lead by example

 

For your customer-centric culture to be truly adopted and internalized by your employees, you need to follow suit. Leaders should lead by example and encourage those who defend your new culture. Make sure your employees know it's alright to make mistakes, but encourage those who are proactive and correct their colleagues.

Step 5: Praise your staff

 

Show your staff how proud you are of what they have achieved. Make them take pride in what they are doing. Praise them and encourage them. The more you acknowledge their hard work in creating an amazing guest experience, the harder they will work to create an even more delightful experience for your guests.

Step 6: Incentivize them

 

To make sure that review generation is an ongoing activity and not just a one-off initiative, you need to keep motivating your staff with incentives and drive them to perform. Regularly grade employees based on the number of positive reviews they have been responsible for and recognize their good work.

 

Since reviews will become your biggest business endorsements, you can even consider using your marketing budgets to offer incentives. It will let your employees know the importance reviews assume in your business.

How a guest-centric culture can help get more reviews for your hotel

 

One of the easiest ways to increase the number of positive reviews for your hotel is to ask delighted guests for them. Once you've created a guest-centric culture in your hotel, you've not only empowered your employees to go the extra mile for your guests, but also put them in a position in which they can confidently ask for reviews. Delighted guests will be more than happy to share their experience, especially if they receive a personal message from the staff who went above and beyond for them.

 

Encourage your staff to get innovative while asking for reviews. For example: They can video record guest feedback if they think the guest is really approachable and happy.

 

Your hotel's staff is essential to generating more positive reviews because they are the ones who are responsible for the guest's experience. If a guest enjoys a delightful stay in your hotel where the staff has exceeded their expectations, they are more likely to leave a positive review. And the most effective way to achieve such a delightful experience for your guest is to create a guest-centric culture where employees want to go the extra mile for the guest, thereby creating an emotional connection that can be capitalized upon to gain more reviews.

By Riddhi Maniar is the Marketing Communications Specialist at Hotelogix, a cloud-based property management and distribution system. Riddhi enjoys sharing her views on best practices related to guest experience and the current trends in the hospitality industry.





Categories: None

0

/